All Posts
Category: Event &nbspListing Date: 2011-08-09

9-11 Flag at Mount Rushmore
The 9/11 Flag at Mount Rushmore, South Dakota - August 9, 2011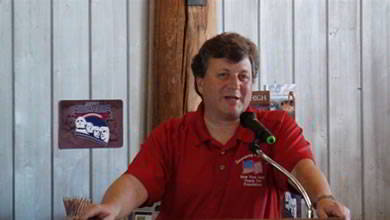 Jeff Parness talks about the 9-11 Flag.
---
The Mount Rushmore Sculptor's Studio was standing room only as Jeff Parness, the founder of The New York Says Thank You Foundation, talked about the significance of the 9/11 Fag and the contributions and sacrifices of so many people. Every day citizens from all walks of life and from so many places serve their communities every day. Mr. Parness talked about firefighters and police that serve in our communities. He talked about the three local police officers involved a violent incident in Rapid City just a few days ago. Two of the officers, J. Ryan McCandless and Nick Armstrong, have since died as a result of their injuries. The third officer, Tim Doyle, is expected to recover.
Several South Dakotans were chosen to have their stories read and then to place a stitch in the 9/11 flag. These included police and firefighters, veterans and others. Lt. James Johns of the Rapid City Police Department put three stitches into the flag for the three police officers mentioned above. All of these stitches are a part of the 30-foot by 20-foot 9/11 Flag and will become a permanent exhibit at the 9/11 Memorial Museum at Ground Zero.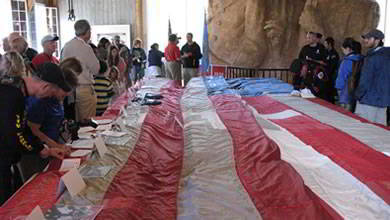 People gather around the 9/11 Flag.
---
The flag represents America's resilience, the ability of this country's citizens to come together after tragedies like 9/11, or after hurricanes, tornadoes, and other disasters. We can come together, and the 9/11 flag should be a reminder and a symbol for us, and future generations.
The size (20 ft. x 30 ft.) comes into focus when standing this close to the Flag. The stitches and patches reveal the amount of work that was needed to repair this now part of American History. It will forever be a reminder of the sacrifices made and the commitment to respond and to heal.
And the rockets' red glare, the bombs bursting in air, Gave proof thro' the night that our flag was still there.
These words had greater meaning on August 9, 2011 for those who attended and placed a stitch in South Dakota's patch of the 9/11 Fag. The National 9/11 Flag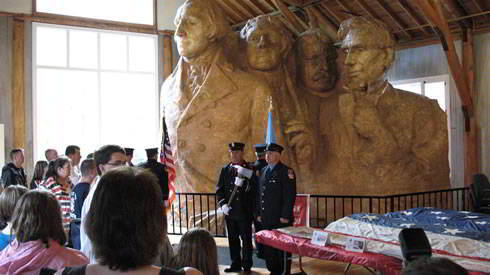 9-11 Flag in Sculptor's Studio
Anna Simpson Miss South Dakota 2011 with Police and Firefighters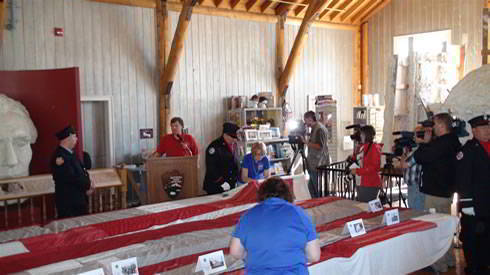 Firefighter prepares to add a stitch to 9-11 Flag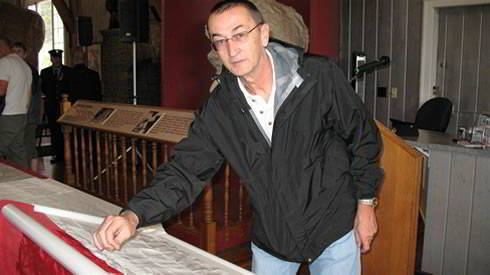 Otto Bochman adds a stitch to the 9-11 Flag
Posted with keywords: ground zero, 9-11, flag, mount rushmore, sd, south dakota,