All Posts
Category: History &nbspListing Date: 2013-10-09

Anna Donna Tallent
Annie Tallent
IN MEMORY OF ANNA DONNA TALLENT
TEACHER AN D AUTHOR
BORN IN NEW YORK STATE,
APRIL 12, 1827.
DIED IN STURGIS, S. DAKOTA,
FEBRUARY 13, 1901.
THE FIRST WHITE WOMAN TO
TO ENTER THE BLACK HILLS,
ARRIVING IN CUSTER CITY
IN DECEMBER 1874.
THIS MONUMENT
IS ERECTED BY THE
SOCIETY OF BLACK HILLS PIONEERS
AND MANY ADMIRERS
"THE WORLD IS BETTER BECAUSE
SHE LIVED AND SERVED IN IT."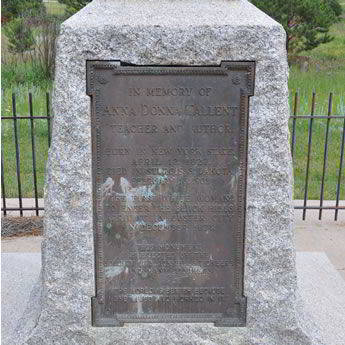 Anna Donna Tallent
Anna Donna Tallent
The South Dakota Historical Society as well as the Black Hills area museums have some interesting information on Annie Tallent.
Posted with keywords: anna, donna, tallent, annie tallent, custer, sd, south dakota, history, teacher,