All Posts
Category: Event &nbspListing Date: 2014-12-05

Capitol Christmas 2014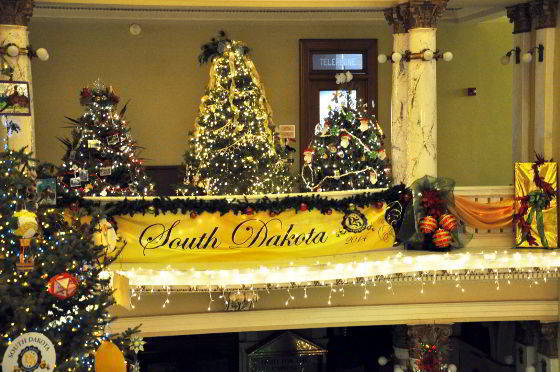 125 years of Christmas in South Dakota. On November 2, 1889 South Dakota became one of the United States.
Governor Bill Janklow asked Dottie Howe to do an "old fashioned" tree for the Pierre State Capitol building in 1980 . . . and "the rest is history" as they say.
This years Grand Lighting Ceremony took place on Tuesday, November 25, 2014 with entertainment by Marla Mosiman, the Capital City Children's Chorus and others, welcome and introductions by Laurie Gill, Mayor of Pierre, Christmas wishes from Governor Dennis Daugaard, and Lighting of the Trees, First Lady Linda Daugaard.
It's always fun to visit the Capitol at Christmas and this year not only do we get to celebrate Christmas but also 125 years of statehood.
Posted with keywords: capitol, christmas, pierre, sd, south dakota, daugaard, janklow, statehood, 2014,