All Posts
Category: Museum &nbspListing Date: 2011-08-11

The Journey Museum
The Journey Museum - August 11, 2011
---
A Journey worth the trip?
When a destination is reached, the question "was it worth the trip" is often asked. If you're interested in the past, history or prehistory, you might travel some distance to see an exhibit, a historic site, or a museum. If you're on vacation these are simply places to spend a little time and if you're traveling with kids, they may need to be entertained. The Black Hills of South Dakota is known worldwide for many attractions, parks, and monuments. Rapid City, the biggest city in the area, is home to a large museum. Locally, it has been at the center of controversy from time to time. Why was it built where it was built? Why was the design chosen? Why does it need subsidies to survive? These may be legitimate questions to ask and debate but that would be for another forum.
The Journey Museum, 222 New York Street, Rapid City, was opened in May 1997. There is always something new to learn at any museum and the Journey is no exception. The displays tell the story of The Black Hills area from fossils that document the dinosaurs and rock formations, the story of the Stratosphere Bowl, and the story of the 1972 flood.
We can only imagine what lies ahead but with museums we can take the journey to the past. A "Journey" well worth the trip.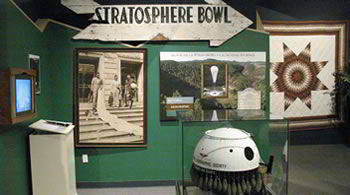 Stratosphere Bowl display at Journey Museum
The Journey Museum
Posted with keywords: journey museum, history, lakota, dakota, custer, rapid city, sd, south dakota,