All Posts
Category: History &nbspListing Date: 2011-07-14

Naturalization 2011
The Naturalization Ceremony on July 14, 2011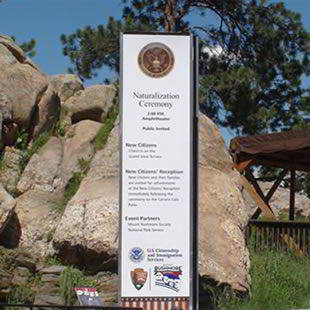 Naturalization Ceremony July 14, 2011
It was a warm but beautiful July day at Mount Rushmore near Keystone, South Dakota. You could feel a mild breeze and there were few clouds in the sky. It was a perfect day for 105 people from 36 countries to become citizens of the United States of America.
After the ceremony a reception was hosted by the Mount Rushmore Society to welcome America's newest citizens. There was also opportunity to register to vote; a privilege that should never be taken lightly.
The Naturalization Ceremony on this day, July 14, 2011, was sponsored by the Mount Rushmore Society and the National Park Service. It began with the Presentation of United States Flag by the Honor Guard from Ellsworth Air Force Base. The ceremony included remarks by several dignitaries and officials. The Dakota Choral Union performed the Star Spangled Banner as well as America the Beautiful.
Some in attendance no doubt had heard stories by grandparents and great grandparents about their own quest for United States citizenship. It's often forgotten that this is a country of immigrants. It's our ancestry, our diversity, and our history that collectively makes American a great nation. Freedom to do and be, to dream and explore has lead to many great discoveries and accomplishments.
As the 105 applicants raised their right hands, Shaunna Penning, the Deputy Clerk United State District Court of South Dakota, read the Oath of Allegiance. Following the oath, The Honorable Jeffry L. Viken proclaimed that the applicants were now United States citizens. The crowd (and newly proclaimed citizens) cheered loudly. You could see tears of joy in eyes of the new citizens as well as relatives in the audience.
United States District Court - District of South Dakota - Western Division - Rapid City, South Dakota
Posted with keywords: united states, ceremony, naturalization, 2011, citizenship, mount rushmore, history, oathe,