All Posts
Category: Waypoint &nbspListing Date: 2015-01-14

Siding 7
Burlington Railroad Siding 7
In early 1890, the Burlington Railroad established Siding 7 three-quarters of a mile up the tracks north from here. The siding consisted of four short, fan-shaped tracks and a hand-operated turntable over an open pit used for servicing the engines. There was also a small machine shop. The railroad planned to use this installation as a permanent location for their yards and as a terminal, since it was near the junction of the main rail line to the coal fields of Wyoming and the branch line into the Black Hills.
After two attempts to secure additional adjacent property needed for expansion failed, the Burlington purchased land from a homesteader, Hank Carsley, on the south side of the Cheyenne River and constructed what was to become a permanent terminal -- thus Edgemont, "edge of the mountains," was born the summer of 1890, growing into and remaining a thriving railroad town.
ERECTED 1989 BY THE EDGEMONT STATE CENTENNIAL COMMITTEE, THE BURLINGTON NORTHERN RAILROAD, THE SOUTH DAKOTA STATE HISTORICAL SOCIETY, AND THE STATE DEPARTMENT OF TRANSPORTATION AS A SOUTH DAKOTA LEGACY.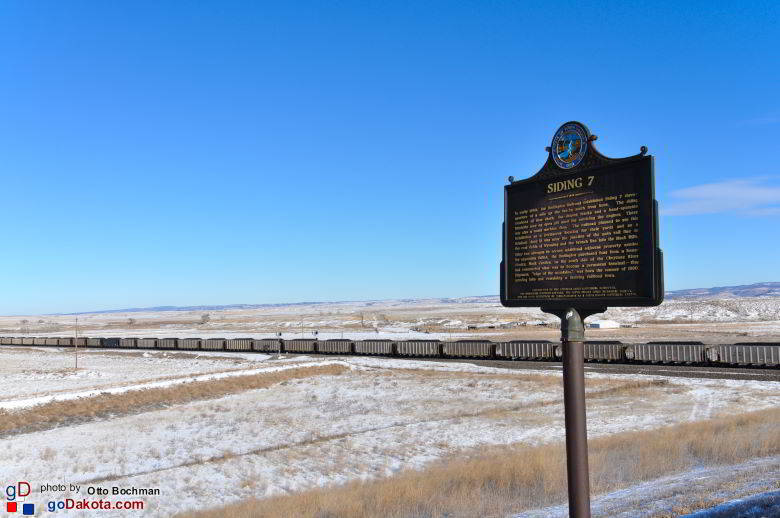 Posted with keywords: burlington, railroad, siding, 7, edgemont, terminal, south dakota,