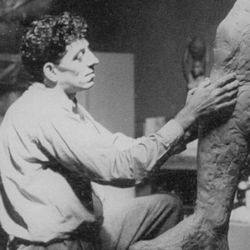 Karl Frederick Lang (Carl)
Years: ?
Affiliation: Borglum
Karl Frederick Lang (Carl Lang) (1897-1952) was a German native who lived in Darien, Connecticut. He worked with Gutzon Borglum for five years at Mount Rushmore, South Dakota, and in Georgia.
In Darien, he was the sculptor of the Veterans Memorial Flagpole, which was dedicated in 1936 and commissioned by the Public Works Administration.
The Flagpole is a group of four sculpted soldiers from various wars, four-sided, from which the high steel staff rises to support the flag. Dedicated to all veterans, the monument is in a circle of grass and shrubbery at the intersection of roadways in the cemetery.
Do you have additional information about Karl Lang
We would like to included it. Fill in the form below to send your information. Please include a valid email address or email from your own email client to: goask "at" godakota "dot" com.
Contact us about Karl Lang