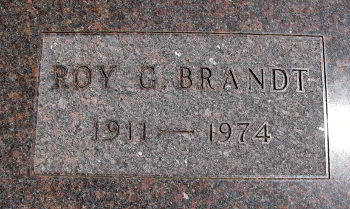 Roy G. Brandt
Years: 1935-1937
Affiliation: Borglum
Age 25, 1935-36 Laborer, .50 per hr. 1937 Jr. Driller, .65 per hr. Left May 15, 1937.
Roy G Brandt (Birth: 1911, Death: Nov. 26, 1974, Rapid City, Pennington County, South Dakota, USA. Only the surname and years of birth and death were found on the stone in 1987, Name and exact date of death from Obits in the Rapid City Journal, the obit is in the Nov 27 newspaper. Burial: Keystone Cemetery, Keystone, Pennington County South Dakota, USA.
Do you have additional information about Roy Brandt
We would like to included it. Please email to: goask "at" godakota "dot" com.
Contact us about Roy Brandt