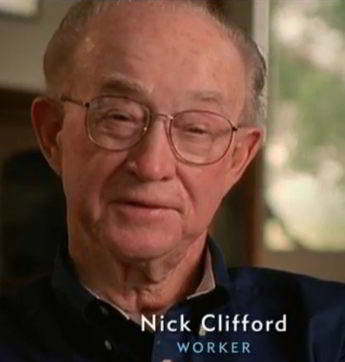 Donald Leo Clifford (Nick)
Years: 1938-1940
Affiliation: Borglum
1938 Helped build Sculptor Studio. 1939 Winchman. 1940 Driller. .55 per hr. Baseball team pitcher & right fielder.
1940 Driller Roosevelt & Lincoln. Charles Clifford younger brother. Stonemason's helper for water reservoir and many slate rock walls. 1939 Winchman in winch house on Washington's head.
Donald Leo "Nick" Clifford died peacefully on November 23, 2019, at Hospice house in Rapid City, SD.
Nick was born on July 5, 1921, in Pierre, SD to Francis and Margaret Clifford. His family moved to Keystone in1923 where he was educated in the Keystone School. After completing the required 10 grades, Nick got a job at the Etta Mine in Keystone. His first job, at age seven, was delivering the Rapid City Journal to about 100 Keystone homes.
At age 17, Nick joined the crew that was carving Mount Rushmore where he worked for three years, first as a laborer, and eventually a winchman and driller. He also played on the Rushmore Memorial Baseball Team those three years.
Nick was married to Betty Hartwell from Pierre, SD from 1942 to 1966. They had three children: Bette Katherine, Karen Ann, and Donald Eric.
Nick served in WWII from 1942 to 1946. He spent the last two years in the European Theater in the 8th Air Force Signal Corps. After an honorable discharge he learned the dry-cleaning business from his older brother, and later opened his own shop, the Custer Cleaners. From 1957 through 1967 Nick operated the concession at Sylvan Lake Resort in Custer State Park.
In 1974 he married Carolyn Moen in Houston, TX. They moved back to Keystone and opened the Dip-A-Lot Ice cream and Sandwich shop. While in Houston, Nick owned a Flaming Pit restaurant franchise and a Tobaccoland franchise.
Nick's lasting legacy began at age 79 when he was invited by the Concessionaire at Mount Rushmore to visit with the tourists, answer their questions, and sign his book. Nick continued going to Mount Rushmore until November 7th; he enjoyed meeting new people every day.
Nick is survived by his wife, Carolyn, of 45 years; Karen Elliott and Kaye Wesson, daughters, Henderson, NV; Donald, son, Tucson, AZ; three grandchildren; seven great-grandchildren; twin great-great-granddaughters; nieces and nephews, many friends, and a host of "fans" who met him at Mount Rushmore.
Preceding him in death were his parents, two brothers, two sisters, one niece, and two sons-in-law.
A Memorial Service to celebrate Nick's life will be at Mount Rushmore National Memorial, Carvers Cafe, on December 4, 2019, at 2:30 p.m.
Cards may be sent to the family at PO Box 263, Keystone, SD 57751. All memorial gifts will be used for a Memorial Chapel in the Mountain View Cemetery in Keystone, SD.
Do you have additional information about Donald Clifford
We would like to included it. Please email to: goask "at" godakota "dot" com.
Contact us about Donald Clifford