All Posts
Category: Artist &nbspListing Date: 2012-12-01

Artist Dick Termes
Termespheres December 1, 2012
An open house was held on December 1st and 2nd, 2012. It was a great opportunity to meet the artist and view his amazing work. Seeing a picture of a "Termesphere" is not at all the same as standing among dozens of suspended spheres rotated by small motors. Books, drawings, and articles on display at the gallery lend to the explanation of what a Termesphere is. For more information visit website and/or the gallery itself.
Artist Dick Termes of Spearfish, South Dakota paints on spheres that have become known at Termespheres.
South Dakota is home to some pretty amazing art and some very talented artists. Dick Termes is one of those very talented artists. In addition to his pieces on display in the Termesphere Gallery, Dick Termes' work can be found in many locations including the Cultural Heritage Center in the state's capital, Pierre, South Dakota.
The Termesphere Gallery is located at 1920 Christensen Drive, Spearfish, South Dakota 57783 and is itself a sphere.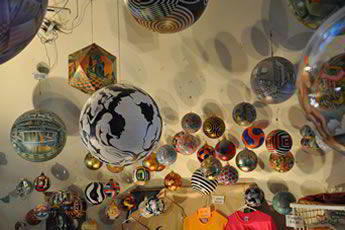 Dick Termes Termespheres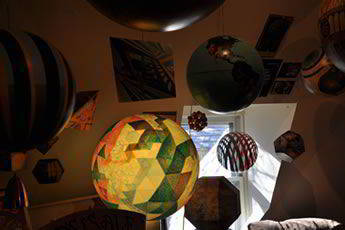 Termespheres Dec. 1, 2012
Posted with keywords: art, dick termes, termesphere, south dakota, sphere, artist,